All panels take place at noon Mountain Time
Topics are subject to change
Monday, March 29: Immigration legal defense
Monday, April 5: Criminal justice
Monday, April 12: Community public safety partnership
Monday, April 19: The Colorado Earned Income Tax Credit & Child Tax Credit
Earned Income & Child Tax CreditsMonday, April 19Dear CSLC Members and Friends,
The Colorado Social Legislation Committee invites you to join us during the 2021 session of the Colorado General Assembly. Every week, our panels will feature advocates, legislators, and experts to discuss issues related to human needs, every Monday at noon.
We invite you to join us online Monday, April 19, at noon for a panel discussion on how our tax code should reflect our state values. Current state tax credits reflect political decisions over the years about what kinds of tax breaks most help our state. Is it time to reassess who gets tax breaks and for what purpose? In proposing an expansion of the state Earned Income Tax Credit and payment of our state Child Tax Credit, we would be prioritizing the heathy and well being of Colorado's famlies.
Join us! Just register with your email and you'll receive the Zoom link.Rep. Mike WeissmanColorado House District 36Rep. Mike Weissman serves as the Chairman of the House Judiciary Committee and a member of the Energy and Environment Committee, and the Committee on Legal Services. He represents House District 36 in Arapahoe County.
Rep. Emily SirotaColorado House District 9Rep. Emily Sirota is Vice-Chair of the Public and Behavioral Health and Human Services Committee and is a member of the Energy and Environment Committee. She represents House District 9 in Arapahoe and Denver counties. Esther TurciosLegislative Policy Manager, CFIEsther Turcios is the Legislative Policy Manager for the Colorado Fiscal Institute (CFI). Since joining the CFI staff, Esther has spearheaded research on federal tax policy, safety net programs, housing, and immigration policy in Colorado and nationally. Along with providing research and analyses that advance policies that support Colorado communities, Esther represents CFI in a number of coalitions, cohorts and stakeholder groups.
Joshua MantellRapid Response Policy Analyst, Bell Policy Center
Joshua Mantell joined the Bell Policy Center in 2018 and works with the research team, as well as assists with communications and outreach by writing and developing content. Prior to working at the Bell, Josh was at the Wilderness Society in both Washington D.C. and Denver, where he worked on public lands, energy, and climate change policy. In the nation's capital, he also worked in Congress focusing on sustainability and energy conservation.Elasha VaughnerClayton Parent AmbassadorKatie Jo HugClayton Parent AmbassadorWhere?Online via ZOOM
Click here to register & receive the link When?
Monday,
April 19, 202112:00-1:15 PM
Upcoming Monday noon panels (subject to change):
April 26: Earth Day & Caring for Colorado's Environment
May 3: TBA
May 10: TBANot a member yet? Need to renew for this year?
Become a member and support our work today!
CSLC Membership FormContact:cslc.news@gmail.comColorado Social Legislation Committeewww.cslc.orgSee what's happening on our social sites: ‌ ‌
CSLC Bill Positions
April 12, 2021
SUPPORT
Senate Bill 21-158 Senators Jessie Danielson and Brittany Pettersen and Representatives Brianna Titone and Monica Duran
INCREASE MEDICAL PROVIDERS FOR SENIOR CITIZENS
Modifies the Colorado Health Service Corps program to include education loan repayment for geriatric advanced practice providers.
Fiscal Note:$257,841 for 2021-22; $429,611 2022—23.
Senate Appropriations
Senate Bill 21-173 Senators Julie Gonzales & Dominick Moreno and Reps Yadira Caraveo and Serena Gonzales-Gutierrez
RIGHTS IN RESIDENTIAL LEASE AGREEMENTS
Limits late fees, prohibits evictions solely for unpaid late fees, adds financial penalty for illegal lock-outs by landlords, give renters more time to come up with rent to avoid eviction; eliminates bond requirement for court proceedings, bans lease clauses that provide financial incentives to landlords to evict.
Fiscal Note: Was about $200,000 in initial bill, but amendments reduced costs substantially.
In Senate Second
Senate Bill 21-175 Senators Sonya Jaquez Lewis and Julie Gonzales and Representative Yadira Caraveo and Chris Kennedy
PRESCRIPTION DRUG AFFORDABILITY REVIEW BOARD
Creates an independent panel of experts to conduct affordability reviews and set upper payment limits for the most unaffordable drugs in Colorado. Manufacturers can appeal.
Fiscal Note: $793,569 in 2021-2; $481,479 in 2022-23
Senate Appropriations Committee
Senate Bill 21-187 Senator Jessie Danielson and Representative Dominique Jackson
DIALYSIS TREATMENT TRANSPORTATION FUNDING
Creates a Dialysis Transportation Provider Reimbursement Program within Department of Transportation. It would reimburse dialysis transportation providers who transport patients 50 or older who are not otherwise covered by Medicaid. Funded with per treatment fee on for-profit dialysis clinics.
Fiscal Note: TBD
Senate Finance
Senate Bill 21-199 Senators Sonya Jaquez Lewis and Faith Winter and Representatives Daneya Esgar and Serena Gonzales-Gutierrez
REMOVE BARRIERS TO CERTAIN PUBLIC OPPORTUNITIES
Repeals provisions that require a person to demonstrate lawful presence in U.S. to be eligible for certain public benefits and requires that lawful
presence is not a requirement of eligibility for state or local public benefits as defined by U.S.C. sec.1621.
Fiscal Note: TBD
Senate State Affairs
House Bill 21-1054 Representative Dominique Jackson and Senator Julie Gonzales
HOUSING PUBLIC BENEFIT VERIFICATION REQUIREMENT
Creates exception for housing programs on requirement that applicants for public benefits verify lawful presence in the US unless otherwise required by federal law.
Fiscal note: None
Governor
House Bill 21-1117 Representatives Susan Lontine & Serena Gonzales-Gutierrez & Senators Julie Gonzales & Robert Rodriguez
LOCAL GOVERNMENT AUTHORITY PROMOTE AFFORDABLE HOUSING UNITS
Clarifies that the existing authority of cities and counties to plan for and regulate the use of land includes the authority to regulate development or redevelopment in order to promote the construction of new affordable housing units.
Fiscal note: None.
Senate State Affairs
House Bill 21-1121 Representatives Dominique Jackson and Iman Jodeh and Senator Julie Gonzales
RESIDENTIAL TENANCY PROCEDURES
Requires 10 days to execute Writ of restitution in evictions' Limits rent increases to one annually.
Fiscal note: None
Senate State Affairs
House Bill 21- 1150 Representative Iman Jodeh
COLORADO OFFICE OF NEW AMERICANS
Formally creates the Office of New Americans in the Department of Labor, but with a broad mission including economic stability, and successful economic, social, linguistic, and cultural integration of immigrants and refugees in Colorado.
Fiscal Note: Currently grant funded for another year. Also transfers federal Refugee Services dollars from CDHS to CDLE.
House Finance
House Bill 21-1194 Representatives Kerry Tipper and Naquetta Ricks and Senator Dominick Moreno
IMMIGRATION LEGAL DEFENSE FUND
Creates a grant program to provide representation to some of the indigent individuals in immigration deportation hearings in Colorado. 30% is also designated for preventative legal work outside metro Denver.
Fiscal Note: $100,000/yr
House Approps
House Bill 21-1198 Representative Iman Jodeh and Senators Janet Buckner and Chris Kolker
HEALTH CARE BILLING REQUIREMENTS FOR INDIGENT PATIENTS
Sets an enforceable standard for discounted care. Ensures that hospital providers screen patients that want assistance for public coverage and discounts. Prohibits collection action unless they have screen patients and offered a fair payment plan first.
Fiscal Note: $186,421 in 2021-22; $521,127 in 2022-2023
House Health Insurance Committee
House Bill 21-1232 Representatives Dylan Roberts and Iman Jodeh and Senator Kerry Donovan
STANDARDIZED HEALTH BENEFIT PLAN COLORADO OPTION
In this two-staged bill, the Division of Insurance would create a standardized plan for 2023 with input from stakeholders. The plan would be offered in the individual and small group markets, and be designed to reduce health disparities. At the same time, insurance carriers would be directed to lower premiums by 10% the first year, compared with average premiums in 2021, and by 20% the second year. If those targeted savings were not achieved, the state would stand up the Colorado option, in which the standardized plan would be offered and limitations to reimbursement to providers would be imposed by the Commissioner of Insurance in order to achieve the desired 20% reduction in premium costs.
Fiscal Note: $866,684 in 2021-22; $790,424 in 2022-23
House Health Insurance Committee
OPPOSED
House Bill 21-1191 Reps Kim Ransom and Tonya Van Beber
PROHIBIT DISCRIMINATION COVID-19 VACCINE STATUS
Prohibits employers from taking adverse action against employees or applicants based on COVID19 vaccination status.
The state or a business cannot discriminate against customers based on COVID19 Vaccinee Status.
Fiscal note: $21,904/yr
House Health Insurance
Criminal JusticeMonday, April 5Dear CSLC Members and Friends,
The Colorado Social Legislation Committee invites you to join us during the 2021 session of the Colorado General Assembly. Every week, our panels will feature advocates, legislators, and experts to discuss issues related to human needs, every Monday at noon.
We invite you to join us online Monday, April 5, at noon. We'll be featuring a discussion on criminal justice issues during this year's session, with expert advocates from the Colorado Criminal Justice Reform Commission and the ACLU of Colorado.
Join us! Just register with your email and you'll receive the Zoom link.Rep. Kerry TipperColorado House District 28Rep. Tipper represents Colorado House District 28, including Lakewood and a small part of Littleton. She serves on the House Judiciary and Health & Insurance Committees and is the Treasurer for the Colorado Latino Caucus. She also serves as the Chair of the Law & Criminal Justice Task Force of the National Hispanic Caucus of State Legislators. Before being elected to the Colorado House, she worked as an attorney representing immigrants and helping survivors of domestic violence rebuild their lives, and served as an Assistant Attorney General representing state agencies.
Denise MaesPublic Policy Director, ACLU of ColoradoDenise Maes oversees all legislative work that affects civil liberties at the state and local level for the ACLU. She also sits on various municipal boards and commissions that review police and jail-related matters. Before joining the ACLU, Denise was Director of Operations for Vice President Joe Biden. In that role, she managed, the Vice President's budget, travel, and personnel. She also served as General Counsel for the Office of Administration under President Barack Obama, where she managed White House contracts and personnel issues.Christie DonnerExecutive Director, CCJRCChristie Donner is Executive Director and founder of the Colorado Criminal Justice Reform Coalition (CCJRC). Since 1995, she has been working in criminal justice reform advocacy, community organizing, policy research, and lobbying. Christie co-authored Parenting from Prison: A Resource Guide for Incarcerated Parents in Colorado. She is also the project lead for CCJRC's publication Getting On After Getting Out: A Re-Entry Guide for Colorado. She represents Colorado on the executive committee of the National Network for Justice. She has a bachelor's degree in political science from the University of Colorado, Boulder.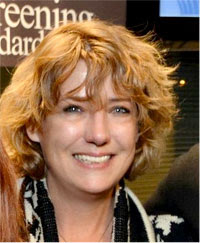 Where?Online via ZOOM
Click here to register & receive the link When?
Monday,
April 5, 202112:00-1:15 PM
Upcoming Monday noon panels (subject to change):
April 12: Community Public Safety Partnership
April 19: Colorado's Earned Income Tax Credit & Child Tax Credit
April 26: Earth Day & Caring for Colorado's EnvironmentNot a member yet? Need to renew for this year?
Become a member and support our work today!
CSLC Membership FormContact:cslc.news@gmail.comColorado Social Legislation Committeewww.cslc.orgSee what's happening on our social sites: